Honest Folk: Patty Lagera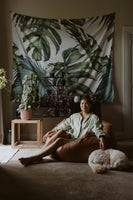 Patty Lagera has a knack for turning new hobbies into business ventures. And so, she wears a number of hats – she's a yoga teacher, filmmaker, and photographer, and even dabbles in circus acrobatics. Intrigued to know more about her, we sat down with Patty for an honest chat. 


-


1. What do you do for an honest living?

I find it difficult to distinguish work from play, because I tend to enjoy a new hobby, say pottery, and I end up creating a business out of it. It's what happened with photography, and with yoga. On the off-chance I'm technically not working, I hang upside-down doing acrobatics (aerial arts) at circus, water my veggie garden, get lost in a book, lay on the beach, dip my body in the ocean, or make more Pattery pieces. I also enjoy getting dolled up, sharing a delectable meal out with friends, and ending the night with cocktails, champagne, rum, gin, or all of the above.



2. What do you do when you're not working?


My finger is in a number of pies — photographer, filmmaker, content creator, yoga teacher, and now, ceramicist. Essentially, I see with my heart, and I create with my hands. Connection, authenticity, movement, and soul are at the core of everything I set my heart to pursue (or sometimes, fall into).
3. Tell us something honest about yourself?

I've been going to therapy for five years now, and it has been the most incredible journey of self-awareness, growth within myself, and so life-giving and nourishing for my relationships. I highly, highly encourage everyone to give it a go. It might take a number of tries to find the right therapist, and when you find them, it's utterly life changing.

read more of our article's
Choosing a selection results in a full page refresh.
Press the space key then arrow keys to make a selection.
Something went wrong, please contact us!